Keeping Your Truck Looking Strong
LINE-X of Macon specializes in outfitting your pickup truck for your needs, whether you use your truck for work or you are a road warrior on the weekends. From LINE-X protective bedliners to seat liners and tool boxes, we've got all of the interior and exterior truck accessories that you need. Our mission is to make your life easier by protecting your truck and tailoring it to you. When you partner with us, you can rest assured that you'll have the best looking truck in Macon. Call us today to get started!
Exterior Truck Accessories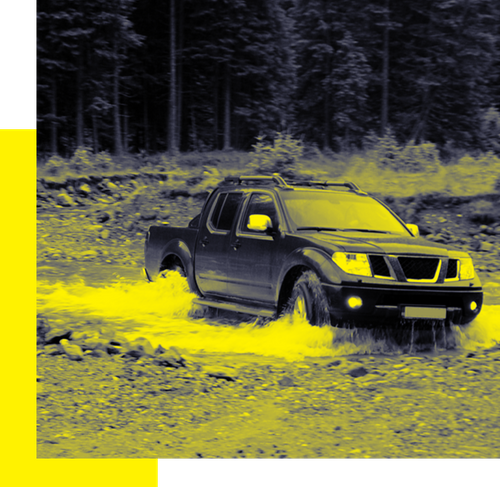 EXTERIOR TRUCK ACCESSORIES WE OFFER IN MACON
Truck bed covers

Step bars

Tool boxes

Winches

Brush guards

Train horns

And much more!
EXTERIOR TRUCK ACCESSORIES IN MACON
When you purchase a pickup truck, odds are, it's probably stock, meaning it has average tires and the bare necessities to make it comfortable. However, you want a pickup truck that is beyond comfortable. You want a pickup truck that can do the things you ask it to do and what you need it to do easily. Whether you slip off the road during an ice storm, you're mud crawling on the weekends, or you are using your pickup to haul tools to the job site, your pickup truck needs to be outfitted to hold up against the tasks you will ask of it.
At LINE-X of Macon, we offer a variety of products to support your work and your weekend adventures. From truck bed covers and step bars to tool boxes and winches, we've got your exterior truck accessories covered. We understand that your pickup truck needs to be multi-functional and do the work you need it to do. Below, we'll go over just a few of our numerous exterior truck accessories. Contact us today to get started!
TRUCK BED COVERS
A truck bed cover is one of the best truck accessories you can invest in. Depending on which type you choose, you can roll it up and still use the bed of the pickup to tow your fifth-wheel camper, or you can roll it back down and safely stow away your groceries, luggage, and gear without fear of it getting wet or lost from the back of your pickup truck.
LINE-X of Macon offers almost every variety of truck bed covers to suit your needs, from soft folding and soft rolling to retractable, hinged, or a full truck cap. Each has its own unique features that can fit your needs perfectly. The best way to decide on which truck bed cover is for you is to visit our Macon location to see them in person.
STEP BARS
For anyone who has had a truck that didn't come with step bars, you understand the difficulty in getting in and out of your vehicle, especially if you are on the shorter side. It can be a big step, and if the weather is bad outside, you are at risk of slipping or falling while getting in and out of your pickup.
By investing in steps of some sort, such as step bars or running boards, you will be able to get in and out of your truck much more easily and safely. LINE-X of Macon offers many varieties and types of running boards and step bars to suit your style and taste and to match your pickup. We also offer truck bed steps and bumper steps so you can easily get in and out of the bed of your pickup as well. Stop by to take a gander today!
TOOL BOXES
Before the tool box was invented for pickup truck beds, you either had your work tools loose and they slide around the bed of your pickup truck, causing untold number of scratches, or you had a hand-held tool box that also slide around the back of your pickup bed, again causing unsightly scratches and maybe even dents.
With tool boxes made to fit right behind the cab of your pickup truck, it is now easy as pie to store your tools, protect both them and your pickup from damage, and keep them safe from the elements. At LINE-X of Macon, we offer many different types of truck bed tool boxes for you to choose from, as well as different sizes and colors. These tool boxes are made from aluminum and are lockable. All are made to fit a standard pickup truck bed, so your tool box will be snug. Check out our selection at LINE-X of Macon today.
CHOOSE LINE-X OF MACON FOR ALL YOUR TRUCK ACCESSORY NEEDS
LINE-X of Macon aims to take care of your truck accessory needs so when you are out on the road, on the trails, or at a job site, you'll have everything you need right at your fingertips.
LINE-X of Macon offers the best in exterior truck accessories, including truck bedliners. Our LINE-X spray-on bedliner is the best in the industry, able to stand up to the beating you put it through. It will protect your truck bed from scratches, help to keep items from shifting while traveling down the road, and is low maintenance. Here at LINE-X in Macon we ensure our customers are 100% satisfied with the job and the service they receive. Our mission is to offer you high-quality products at affordable prices with a smile. Come on down to our store, or visit us online today!