Staying Comfortable No Matter the Weather
Whether you spend a lot of time in your car or just a little, you want to be comfortable, from where your arms lie and the angle of your seat to the cushioning you sit on. This ensures you are alert and ready as a driver so you're not constantly shifting weight while driving, and thereby creating a road hazard.
LINE-X of Macon offers the best interior truck accessories for your needs, from seat liners to floor mats. Our mission is to not only ensure your vehicle is ready to tackle your weekend adventures, but also that you are comfortable doing so. Reach out to our team to learn more today!
Interior Truck Accessories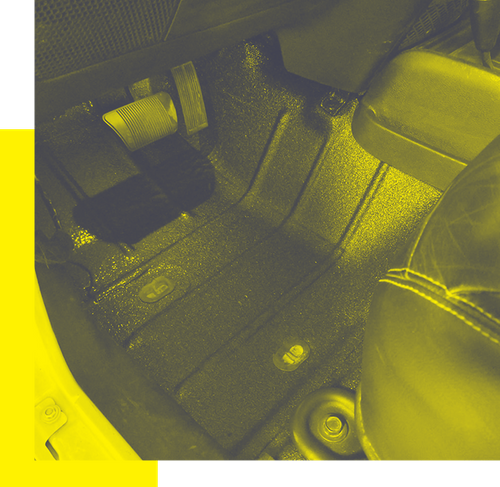 INTERIOR TRUCK ACCESSORIES WE OFFER IN MACON
Seat protectors from WeatherTech, Cover Craft, and Ruff Tuff

Floor liners from WeatherTech and Husky

Plush custom floor mats from Cover Craft

And so much more!
When the wind starts to blow and the rain and cold hit, it's nice to be able to retreat to the warmth of your car and ride to work, to see your parents, or to the grocery store in comfort. With LINE-X of Macon's interior truck accessories, you can do just that. No one will complain of aches and pains, and your car will thank you for it as well. Below, we'll take a brief look at some of our products. Contact us today to get started!
OUR BEST INTERIOR TRUCK ACCESSORIES IN MACON
Seat Protectors
If you have kids, you know how quickly your car can go from clean to dirty. Seat protectors will protect your car seats from spills, cookie crumbs, and the occasional spit up. Here at LINE-X of Macon, we offer a variety of seat protectors and covers for you to choose from, including our WeatherTech, Cover Craft, and Ruff Tuff seat protectors.
Our WeatherTech seat protectors are water-repellant and protects against scratches, spills, and rips in the seat. Plus, they are great if you own pets. Cover Craft seat protectors are waterproof, protecting your seats from rain, spills, and sweat. They are easy to install and remove, and they are machine washable. They also work with heated seats and come with a three-year warranty. Finally, our Ruff Tuff seat covers are custom to your vehicle, and every one is designed, cut and sewn in the United States. Visit LINE-X of Macon today, stop by in person today.
Floor Liners
Most new cars only come with stock floor mats, that if left unprotected, will get dirty quickly. Throw on our floor liners and mats, and clean up is a snap. Here at Line-X of Macon, we offer many different brands and types of floor liners, including WeatherTech, Husky floor liners, and Cover Craft.
LaserTech floor liners are laser-measured for a precise fit to protect every square inch of your front, back, and sides of your vehicle's flooring. Husky floor liners are heavy-duty and fit the contours of your vehicle as well with indestructible strength and a soft cushion. Rugged and made to stand up to your rough-and-tumble lifestyle, Husky is your go-to floor liners for your truck or car. Finally, our Cover Craft floor mats for your car, truck, or SUV are plush, meant to cushion your feet as well as protect against the outside elements. They protect the vehicle's original carpets, and they come in a wide variety of colors to choose from. Visit LINE-X of Macon today, stop by in person today.
CALL LINE-X OF MACON TODAY!
LINE-X of Macon offers killer looks in all that we do. We offer LINE-X spray-on bedliners, LINE-X Renew, which repairs and enhances your current spray-on bedliner, and interior and exterior truck accessories. From truck bed covers and brush guards to tool boxes and winches, our team has years of experience helping you to customize your ride. LINE-X can be applied to any vehicle as a protective coating, and it is backed by a lifetime warranty. You can't beat the best in the business.
If you're looking for the coolest coolers, LINE-X of Macon offers many coolers and sizes to keep your drinks and food cold all day long for your weekend trips. We also offer step bars and tie downs to keep your toys in place, and a jump starter kit. But this is just the tip of the iceberg. Visit our truck accessory shop for all the goodies today!