Anything Worth Protecting is Worth Overprotecting
Our standard LINE-X® spray-on bedliners are lab-tested and lifetime-guaranteed to protect your truck bed from most anything you can think to put it through. LINE-X® XTRA with DuPont™ KEVLAR® technology, can match any color, which means tough just got tougher AND prettier.
DuPont™ KEVLAR® is up to five times stronger than steel, making your truck bed stronger than just about anything you can put in it.LINE-X ReNew ™ wants to breathe new life back into your tired, weak and old worn-out truck bedliners. Throw on a coat of LINE-X ReNew™ to raise the muscle and durability of your old truck bedliner to the protection level of a LINE-X spray-on bedliner. ReNew™ has been awarded the 2008 North American Truck Bedliner Product of the Year Award by Frost & Sullivan for its ability to make old new again.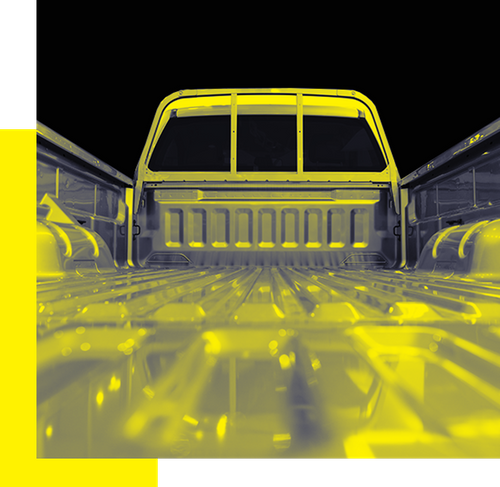 BENEFITS OF LINE-X RENEW
Repairs & enhances your current spray-on bedliner

Does not require removal of your previous truck bed liner

Permanently bonds to the bed of your pick up

Stronger than anything you will carry

UV-resistant

Protects the aesthetics of your truck

Increases your truck's value

And so much more!
BENEFITS OF A TRUCK SPRAY-ON BEDLINER
MAINTAINS OR INCREASES THE VALUE OF YOUR TRUCK
The bed of your pickup can take quite a beating, with everything from groceries to tools being slung around as you drive. This damage, when extensive, can lower the value of your truck. A spray-on bedliner, such as LINE-X of Macon's, will eliminate that damage, protect the bed of your pickup, and increase the value. A spray-on bedliner is a great selling point if you are trading your truck or selling it since most people see the value of having one.
PROTECTS YOUR TRUCK'S FRAME
The main job of auto paint is not to make your truck look good (which it does), but it's to protect your pickup from rust and corrosion. Your truck is made of metal, which, when exposed to the elements, such as the pollutants in the air and water, starts the oxidation process. This process is what happens when metal is exposed for a good period of time. A spray-on truck bed liner will protect your truck from the scrapes that can expose the metal of your truck, protecting the structural integrity of your pickup.
LOW MAINTENANCE
LINE-X of Macon's spray-on bed liner will protect the bed of your pickup for a lifetime. Once installed, you won't have to worry about dents to fix, scratched paint, or any other maintenance issues that might crop up. Made of a polyurethane mixture, this truck bedliner is easy to wash off using a simple garden hose.
NON-SLIP
If you're tired of your tools sliding all around in your pickup bed, then LINE-X of Macon's truck bed liner spray is for you. Our truck bed liner is non-slip, meaning when you haul heavy items, they are less likely to ski around. This prevents damage to your pickup as well from constant banging. Plus, when you open the tailgate after going grocery shopping, you won't have to crawl into the back of the pickup to retrieve all your groceries!
CUSTOM FIT
Bedliner sprays, such as LINE-X Spray-On Bedliners, fit the bed of your pickup like a glove. Drop-in bedliners or carpet ones don't fit precisely, leaving gaps that can cause trouble, such as when rain gets trapped beneath it or the inevitable spill happens and misses your truck bedliner. This tight seal created by a spray-on bedliner will not only prevent items from falling beneath it, but it also will eliminate road noise that regular bedliners make while driving down the road.
UV Protection - Fade Resistance
Over time ultraviolet light radiation can affect the appearance of your truck bedliner, making it lose its luster as it fades. LINE -X ReNew returns your truck bedliner to its original luster and then, like a sunscreen, helps to minimize future UV damage.
CHOOSE LINE-X OF MACON TODAY
LINE-X of Macon offers the best LINE-X Bedliners, truck accessories, and lifestyle products for you, from seat and floor liners to step bars, tool boxes, grilles, winches, and more. We have everything to suit your outdoor and off-roading lifestyle. We are so confident that our LINE-X Bedliner is the best that we offer a lifetime warranty.
Our customer service is a cut above the rest. When you walk into our truck accessory store, you will get immediate attention from a friendly, knowledgeable associate who can answer all of your questions and get you the truck accessories you need, as well as schedule you for your truck bed liner installation service.
Our mission is to help you protect your truck, have fun using it, and look cool. Contact us today!