Why Choose Us
Line-X of Macon is proud to be the nation's leading developer and provider of spray-on protective coatings. Utilized in military, commercial, industrial, agricultural and custom applications, these high quality materials and superior scientific know-how go into each long-lasting truck bedliner coating, providing unrivaled protection.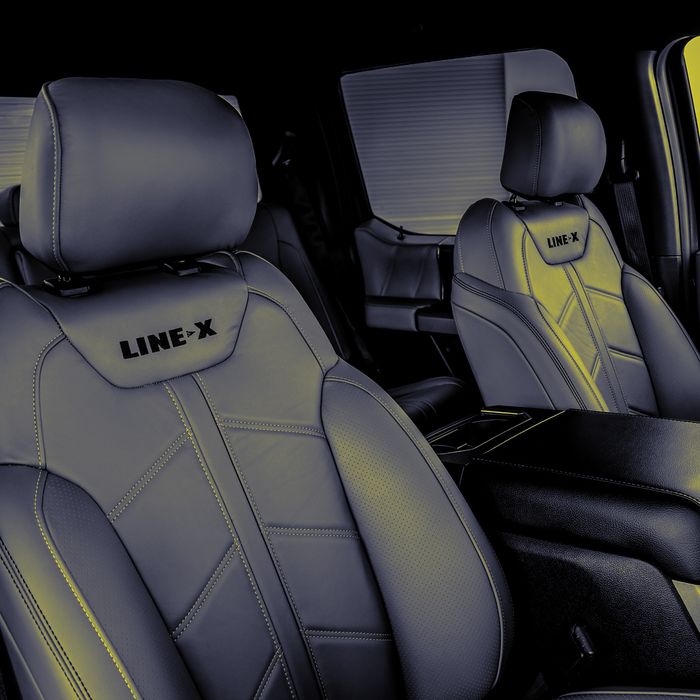 LINE-X is the recognized leader in this industry:
Only company in the industry with a dedicated full-time Research & Development staff and a 15,000 square foot research facility.
Recognized market leader in the spray-on truck bedliner industry consistently since 2005 (Source Frost & Sullivan Study 2006 and 2008).
First successful high temp/high pressure elastomeric bedliner.
First nationwide spray-on truck bedliner and protective coating franchise. Recognized in INC 500 and Entrepreneur Magazines. Also recognized in most major truck publications including Motor Trend, Truckin', Sport Truck, Street Trucks, Peterson's 4-Wheel and Offroad and many more.
First commercially available pure polyurea.
First to develop a bomb blast coating. This coating has been tested by The Army Corps of Engineers and the Air Force Research Laboratory. Product recognized by Popular Mechanics, Nationwide TV News Media, and Sixty Minutes II.
First to apply a non-skid pure polyurea onboard a U.S. Navy Submarine.
First spray-on product to meet MSHA requirements for acceptance of flame-resistance solid products taken into mines.
Only spray-on product in its category to be accepted by MSHA as a non-strength enhancing mine sealant.
LINE-X consists of several different products.
All systems utilize a two-component, spray-in-place, 100% solids (no air pollution), thermoplastic polyurethane and polyurea.
There are two separate materials for this truck bedliner system that are precisely dispensed through a high pressure, plural component internal mixing polyurethane spray machine. They are each heated to 120-140 degrees with the temperature maintained through a heated hose. Using high pressure, the materials are mixed internally at a 1:1 ratio at the tip of the spray gun. As the material is applied to a truck bed, it takes less than five seconds for it to harden. As soon as LINE-X lands on the surface of a truck bed, it's dry!
LINE-X truck products are a fast-cure, multipurpose series of coatings designed for a wide range of retail, commercial and industrial uses. They exhibit excellent adhesion to most properly prepared surfaces. With its fast cure time, this Line-X truck bedliner coating can be sprayed vertically and even overhead without running or dripping. There are no solvents associated with LINE-X products, which means there are no air pollutants or harmful environmental contaminants.
LINE-X Protective Coatings are resistant to most solvents and acids, making them ideal for industrial and commercial applications where corrosion is prevalent, including truck beds. Using LINE-X greatly extends equipment and vehicle life expectancy. It has a high "shore D" hardness rating, offering excellent impact resistance and superior tensile strengths (up to 6,600 psi) resulting in outstanding abrasion resistance. Because the material is sprayed there is a complete seal, making the coating "water tight."
Headquartered in Santa Ana, California, with more than 550 locations in 26 countries, it is the goal of LINE-X to consistently produce the highest quality and most reliable materials available, including truck bedliners. LINE-X is also focused on developing new protective coatings for a wide range of retail, industrial and other applications needing extreme protection.
WE BELIEVE ANYTHING WORTH PROTECTING IS WORTH OVERPROTECTING.