Lining Your Vehicle's Seats With Love
There are many benefits to investing in seat liners or seat covers for your vehicle. Besides stating the obvious that they keep your seats warm in the winter and protect your seats from the kids and dogs, seat liners look great, too.
LINE-X of Macon offers exceptional seat liners for your vehicle. The interior truck accessories offer superior protection and durability. They come in many colors for you to choose from, and they are easy to install. When shopping for truck accessories in Macon, choose LINE-X of Macon today!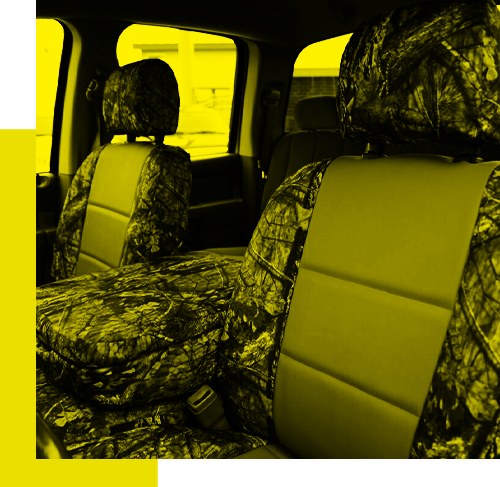 TYPES OF SEAT LINERS WE OFFER IN MACON
WeatherTech Seat Protector

Cover Craft Seat Protectors

Ruff Tuff Custom Seat Covers
Seat liners are hands-down simply nice to have. They create a more polished look and help make your vehicle a pleasure to drive. Let's take a more formal look at the benefits of seat covers, and shop LINE-X of Macon for all your interior truck accessories today!
BENEFITS OF TRUCK SEAT LINERS

Increases the Resale Value of Your Vehicle
When you have seat covers on your truck, car, or SUV, you will increase the resale or trade-in value of your vehicle. This is because seat covers protect your seats from the spills that are inevitable with kids and eating in the car. Let's face it, most of us have experienced a spilled drink, either from the drink being too full, you having to unexpectedly slam on your brakes, or you accidentally knocked it since you aren't used to the space in your car. By having clean seats when you go to trade-in your car or sell it, you'll get hundreds, if not thousands, more.

Durable
If you drive a lot, then you probably get in and out of your vehicle a dozen or more times a day. This constant shifting in your seat can wear the material out, which is why you see holes in the driver's seat of trucks. When you invest in truck seat liners, you'll be sure to eliminate these holes. In addition, if you transport pets who have clawed, seat liners are absolute essentials. Pets' claws can easily tear into car seats, so protecting them with seat liners keeps their claws off the seats themselves.

Easier to Maintain
Research has shown that we treat our cars as extensions of ourselves, much like we do in our homes. This explains why people put stickers and decals on them and keep them clean and nice. It also explains why we do a lot of daily activities in our cars, from eating and drinking beverages to sleeping, reading, and putting on makeup. That being said, when the spills happen, the snow is brought in, or you sit on a pen, having a seat liner is super easy to clean and maintain. Plus, if it stains, no big deal; you can just replace them from our superb selection of truck interior accessories here at LINE-X of Macon.
CHOOSE LINE-X OF MACON AS YOUR TRUCK ACCESSORY STORE TODAY
LINE-X of Macon offers the best truck bedliners, truck accessories, including seat liners, and lifestyle products to fit your needs. Our LINE-X truck bedliners are the best in the industry, offering superior protection and durability from the scratches and dings of everyday use. Our truck accessories help to protect your vehicle, add value, and keep it in great condition for your use. Our lifestyle products will help you on all of your adventures, from coolers to tie-downs. If you are looking for the best, head to LINE-X of Macon today!
What Are You Waiting For?
Get in touch with your Top Rated Local® LINE-X so we can start working with you today!